The Eco-Friendly Complete Cleaning Kit
The Eco-Friendly Complete Cleaning Kit
Our complete cleaning kit doesn't cost the world.
With an RRP of £63.65 our award winning Eco-Friendly Complete Cleaning Kit is a real bargain.
Not only do you save £19.66 (along with the planet) but we'll also throw in a a free Eco-Caddy to store your massive range of new products.
The answer to all your cleaning needs! This complete cleaning kit provides you with everything needed to clean with conscience©.
Learn more below or download our product information sheet with information about use, ingredients and more.
---
What's Included?
Our Eco-Friendly Complete Cleaning Kit contains our full range of award winning, environmentally-friendly biological cleaning products that are free from harmful toxins and protect your surfaces long after you've cleaned them.
One of our best deals. RRP is £92.85 if products are purchased separately PLUS you get a free Eco-Caddy.
7 x 300ml Empty Product Specific Aluminium Bottles
1 x 30ml Biological Multi-purpose Cleaner (concentrate sachet)
1 x 30ml Biological Odour & Spot Remover (concentrate sachet)
1 x 30ml Biological Bin Odour Eliminator (concentrate sachet)
1 x 30ml Eco-friendly Glass Cleaner (concentrate sachet)
1 x 30ml Biological Floor Cleaner (concentrate sachet)
1 x 30ml Bathroom Cleaner (concentrate sachet)
1 x 30ml Kitchen Cleaner & Degreaser (concentrate sachet)
2 x 30ml Biological Drain Maintainers (concentrate sachet)
1 x 150ml Eco-friendly Dry Carpet Cleaner
1 x Wooden Carpet Cleaner Brush (can be swapped for a vegan friendly carpet cleaner brush if requested)
3 x Glass Microfibre Cloths (colour coordinated to area of your home (see bottle colours)
1 x Eco-friendly Caddy (at last get rid of the plastic bucket under the sink once and for all!)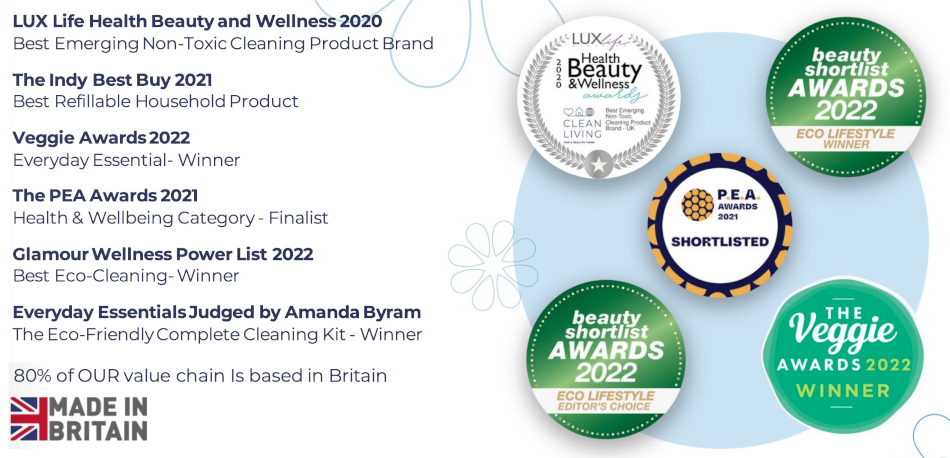 Our handy and hardy carry caddy is ideal for storing your products away neatly. It also makes cleaning a doddle, enabling you to carry your products from room to room as you freshen it up.Your bottles will arrive empty to reduce carbon emissions. When you receive them, simply pour the refill sachets into the correct bottles, top up with tap water and you're ready to clean. The result is a deeply clean and beautifully fragranced home. It's a must for every household!
Please note - the wooden brush that we include with this product contains natural hairs. For anyone that would prefer a silicone brush, please let us know in the additional comments box when checking out, and we will happily make the switch for you.
Benefits of Clean Living cleaning products:
Refillable Aluminium Bottles
Reduces household waste
Eco-friendly
Recyclable
Natural cleaning products/ingredients
Vegan friendly
No harsh chemicals
100% biodegradable
Stunts the regrowth of harmful bacteria
Completely breaks down and removes odorous bacteria
Sodium Hydroxide free
Chlorine free
Phosphate free
Solvent free
Ammonia free